5 Awesome WordPress Hotspot Plugins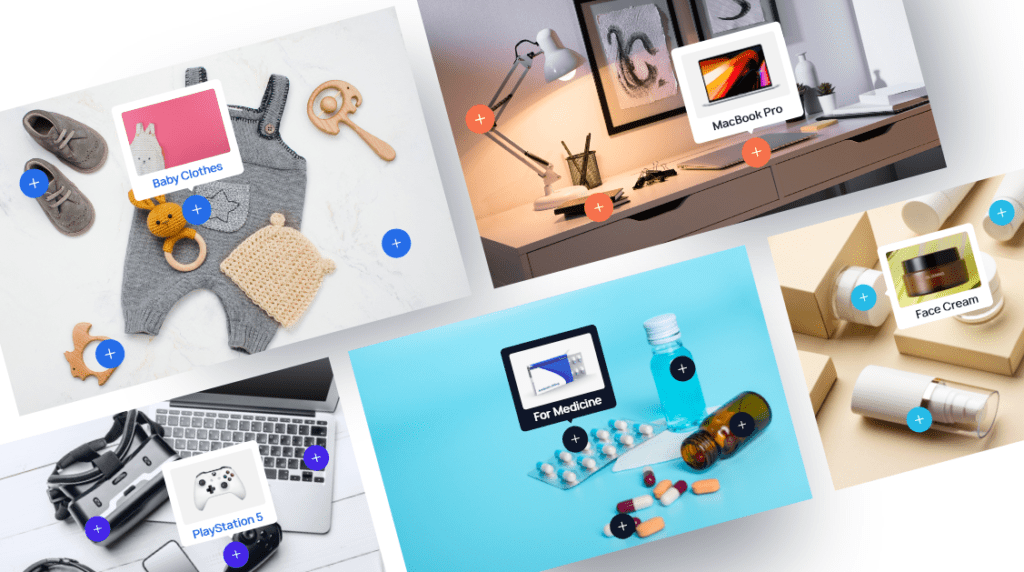 Websites are always more interesting and also visitors engage themselves in a website when website owners include images and videos. All previous records of using normal images will be broken if you use a Hotspot image in your website. Your site visitors will get more information if they click on clickable areas which are offered by Hotspot images .Previously creating an image hotspot was not so easy.

Interactive images which is a fantastic method to help your website to reach a new level. Interactive images can be used in a variety of ways, there are many ways out there which you did not think about previously. Interactive images are absolutely something you should explore if you want to enhance your photographs to display additional information about your items, floor plans, buildings, maps, and pretty much any other image application you can think of.


After doing deep down research from the marketplaces we have found the 5 best WordPress interactive image and mapping plugins for 2022. Here's a fast run-down of our research of  each plugin which we have shown below.
The Divi Hotspot is the fancy plugin for building image Hotspots . Just like the other solution in this list Image Hotspot WordPress plugins. This plugin permits you to alter the hotspot icons as well as you can trigger tooltips with icons on hover. The Tooltip icon content can be as rich though this plugin's text. Using this plugin you can include media files and you can customize the text formatting from the settings. On the other hand you can configure the responsive settings (This setting is really important for you and this is the image hotspot behavior on mobile devices).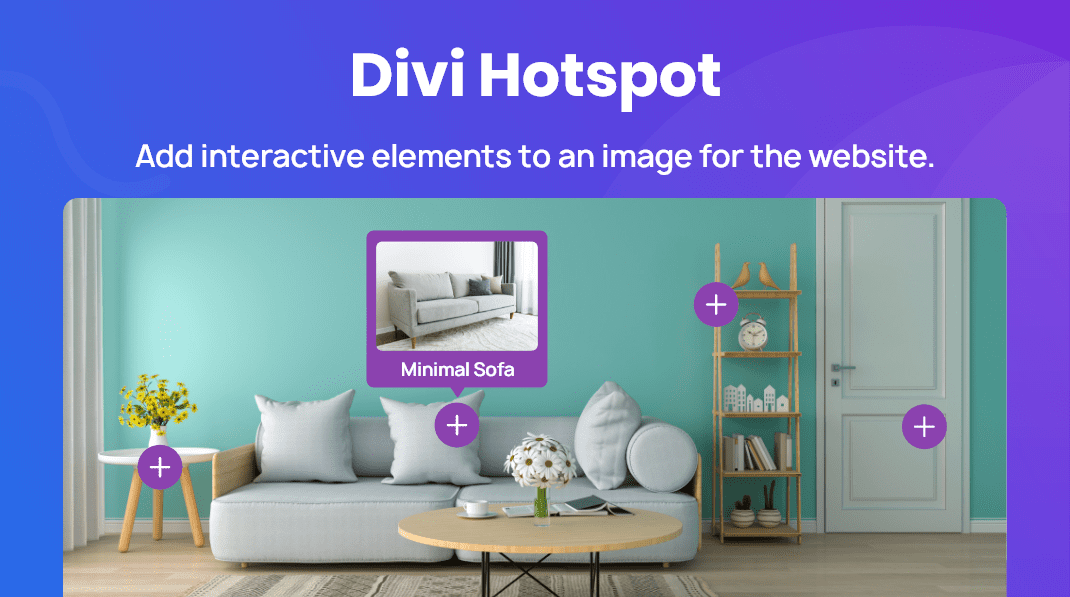 The Divi Hotspot plugin is an ideal plugin for displaying interactive elements on your website. You can easily use the Hotspot module and Tooltip functionality  to make it easy for your visitors to point to the products being sold in a picture you've uploaded.
From the Divi Hotspot plugin, you can get an icon and then you can add the text in both the Hotspot and Tooltip settings. Moreover, you will get an option to add relevant images along with the Tooltip item settings within the Tooltip toggle.
You can design the Hotspots and Tooltips using the Divi Hotspot module's Design tab without opening the individual settings for each item where there are the same kinds of settings providing stylizing choices for both fields.
At an affordable price, you can purchase this awesome plugin. Kindly check below to check the price:
Singe License
comes at –
$9.00
Unlimited License
comes at –
 $14.00 (Most Popular package)
Lifetime Unlimited License
comes at –
$39.00  (Most Popular package)
Divi Hotspot is also available in the
Divi Essential Plugin
, because the Divi Essential Plugin with 64 modules will complete everything you require for Web design or Web Development.
Visit the below link to get more updates about the Divi Essential Plugin:
https://www.diviessential.com/

The Divi Hotspot plugin provides free updates and they have excellent customer support. To get instant solutions you can get higher level support from their Tech Support Team.
More than 10,000 active users have installed Draw Attention and they have received 5-star average ratings from the valuable users. Draw Attention is one of the leading WordPress plugins for creating interactive images as well as  maps.
The plugin itself is useful for all use cases, including:
Product highlights for affiliate sellers

Floor Plans to display real estate

Maps to display properties or venues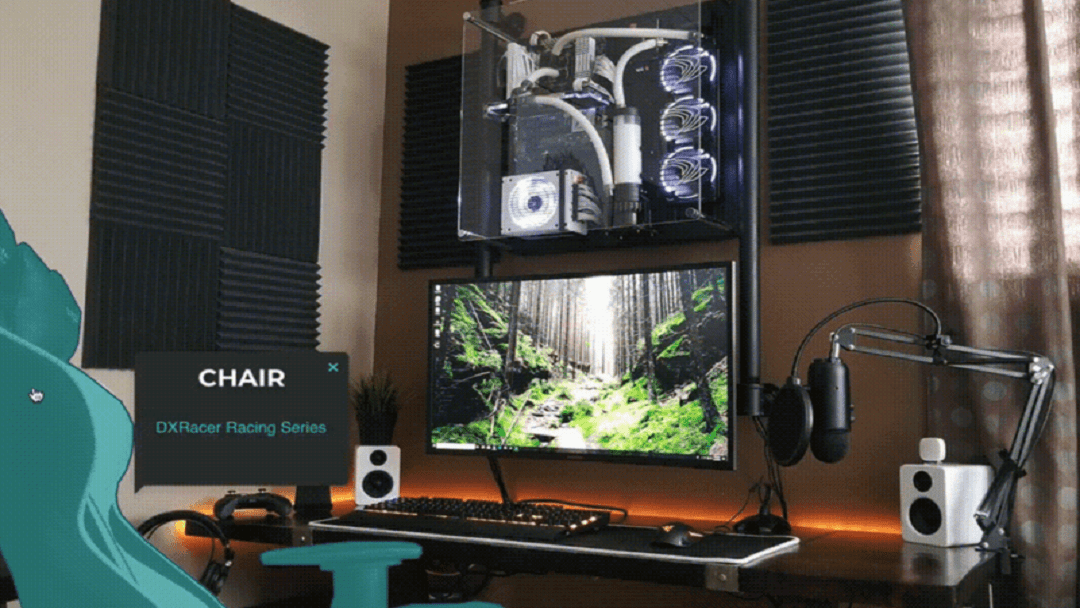 The plugin permits it's users to highlight areas on their images to turn them into interactive ones; moreover it is providing more information for their readers. The PRO version has the color schemes as well as you will get additional layout options for that reason you can use this plugin to show the images like real type.
Draw Attention is extraordinary and so much easy to use, responsive also it is accessible. Moreover, it comes with speedy and friendly customer support.
The plugin comes with 3 pricing options:
The free plan

which is available on WordPress.org

Single plan ($74)

which permits you to use the plugin on one website

Unlimited plan ($124)

which allows you to use the plugin on an unlimited number of websites
Image Map Pro
is an advanced plugin in our list. This plugin is really awesome and  you can create interactive images. It has an awesome interface as well as useful tools.
The Image Map Pro plugin has now 2 pricing options:
Regular ($39 per year)

– The Regular license which allows you to use the plugin in a single end product, and comes with free updates and customer support
Extended ($169 per year) – The extended license which allows you to add Image Map Pro in your project.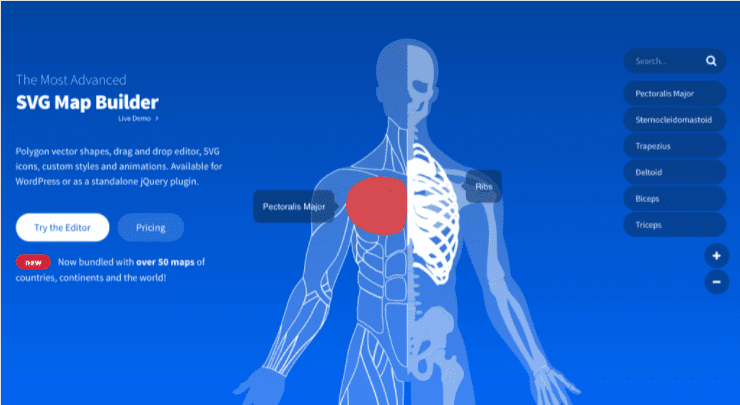 Before purchasing  you can try Image Map Pro which has its own editor .The interface is intuitive and it allows you to create custom shapes so that you can make your images awesome.
The plugin has over 600 high-quality Font Awesome SVG icons and it allows you to upload your own icons, for that reason you can create images that seamlessly integrate with your website's frontend design.
This plugin has a great feature which comes with this plugin and it has the ability to create multiple floors. When you desire to display things like properties and floor plans, it can be incredibly beneficial. This plugin is a responsive solution to your picture needs with limitless styles and animations.

The plugin has an option which is so much easy to use and it works like the live preview directly in the backend which assists you to design the desired look before turning it into live. After activating the icon Image Map HotSpot supports Lightbox which  means your selected images, maps, YouTube or Vimeo videos can be started instantly.
The Image Map Hotspot plugin's
price is $22
. It will assist you to display tooltips or annotations upon images on your WordPress website. You can select to display your content either by clicking on the icon or by your mouseover.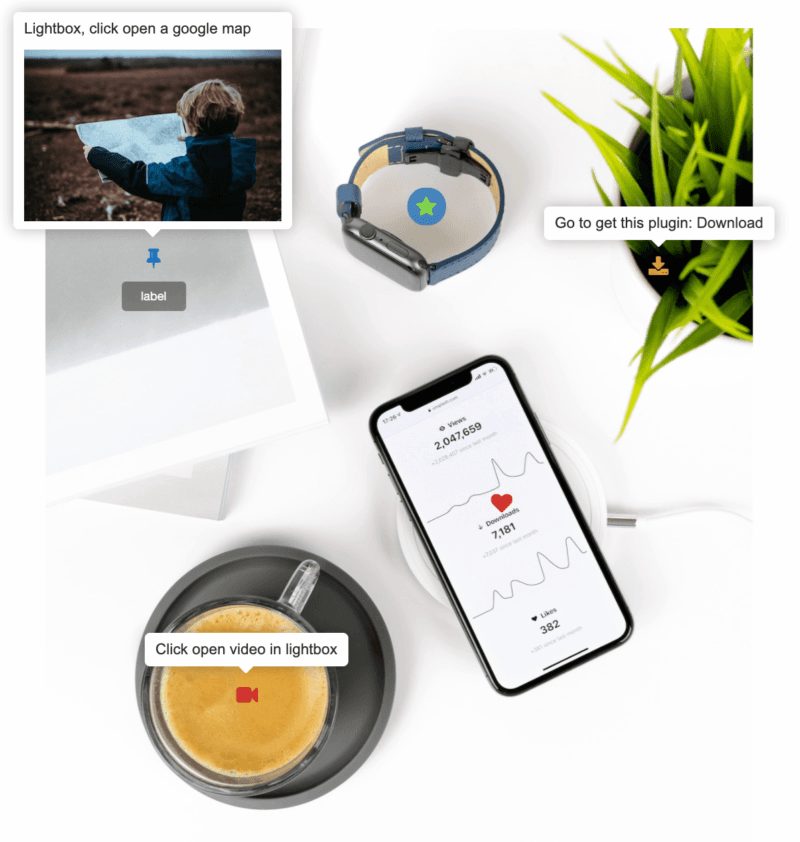 This Image Hotspot by DevVN WordPress plugin is really so simple to use. This plugin permits you to add images and also place custom icons or images that serve as pins over the major image.
Image Hotspot by DevVN – this plugin is open source software. You will be required to upload your custom pin images for adding Hotspots over images. For getting the easy facility first click on the default and hover states to select their position on an image.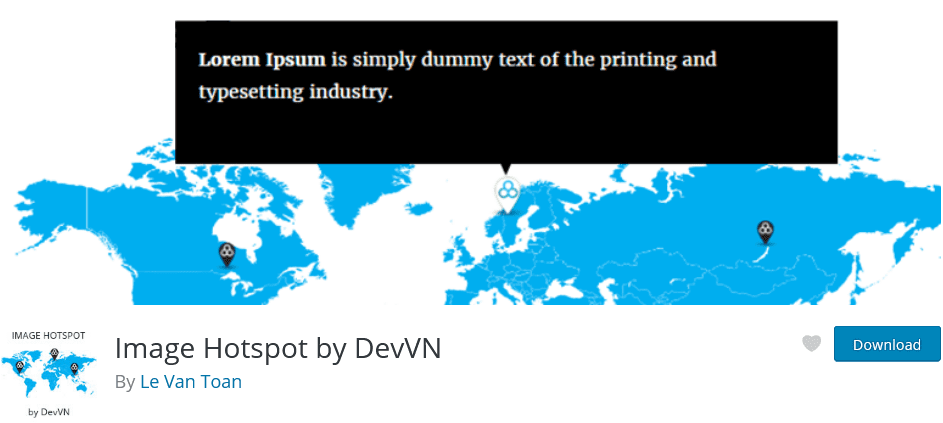 This plugin by DevVN, using it you can add formatted text via the default text editor. It supports images, basic typography settings, links, etc. By combining all these settings you can allow yourself to create a pin that is totally informative moreover it is tailored.
To connect the visitors emotionally you can use images in your WordPress site and it will be the most effective way.
If you have checked all the plugins above then you have already understood that Hotspot images in your WordPress website can take it to a higher level.
We hope that, now you know how you can create Hotspot images within a few minutes using the above plugins. If you have any confusion about creating hotspot images, kindly let us know in our awesome Support  Team. We will try our best to give the solution to your problem.
We will be glad if you let us know if this content is helpful. You can share it on social media platforms if it is really helpful and also let others give the opportunity to know as well.