A plugin that consists of only one module that will serve many purposes.With its multiple content creation tools and versatile design tools which allow you to create unique web content adding style and professionalism to your brand.
Purchase Details:
License:

Our team of hardworking creative minds is always ready to help you with our fast services so don't hesitate to contact us. With the multi-functions in this module, you can explore your mind's unlimited design ideas.
Trendy Design
So, what kind of designs are trending nowadays? Don't worry we have made it easy for you to imitate the trending designs, with just a few clicks you will get the worthy result using our design tools.

Unique Features
In this module, you have so many options to pick from to design your website and its contents, it's overwhelming and it's worth it.
You are getting multiple unique features in just one module.
Advanced Tilt Effect
This feature allows you to put a 3D effect on your design. Make your designs ever so interesting to look at and on a plus side it's also responsive.
Create Infinite Design
Design to your heart's will. With various design options to pick from try not to get lost. Divi Next Blurb module offers you infinite creative design tools.
Modular Control
We give you easy-to-use modular control for all users of Divi Next. Whether you are an amateur designer or a professional, with Divi Next Blurb module you have a lot to go through and create trendy designs very easily.
Responsive Layout
All of Divi Next products are known for its responsiveness and for being user-friendly. It can be viewed on any device, be it a tablet, phone, and PC/laptop.

Heavy Performance
With multiple design tools that allow users to make use of all kinds of design options creating heavily loaded designs, Divi Next Blurb module to some extent proves to be an all-in-one module.

Customizable
Customize to your heart's content with Divi Next Blurb module. Allowing so many ways to design, simply welcome yourself in the colorful journey the Divi Next Blurb module will take you to.

Quick Support
The Divi Next team is well-known for immediate cliental support. Feel free to contact us regarding any issue in the Divi Next Blurb module.

Dynamic Content
Dynamic content is a superb feature by Divi Next Text modules.
We have added this feature into the Divi Next Blurb module to make it more extra for our users. Easily relate the dynamic content to the texts through Divi Next Text modules. Just reduce the efforts and increase the effectivity with dynamic content.

No Coding Required
You don't need to know a single line of coding to use the text modules to create unique text. In very simple ways, you can utilize our creative collection of design tools as other Divi users do.
Whether you're an amateur or a professional you will definitely enjoy this feature.

Hover Effect
Simply make your designs playful and appealing to your users and clients as their cursors run across the screen to make the designs dance with the 'Hover Effect' feature. Change the style, color, and have the shapes of the texts move in various ways by just moving the cursor on the words. Divi Next Blurb module has many hover effects to add to your designs.
What's New In

The Divi Next Blurb
You can create unlimited designs with the Divi Next Blurb module. The new features allow your designs to look trendy and professional. The possibilities of the designs you create with Divi Next Blurb module is beyond imagination.
Use Icon And Image

In One Design
You no longer need to pick between putting an icon or an image for your design. Divi Next Blurb module is allowing us to use both the icon and image in one design.
Before the icon was placeable only on the left side of the text but with the Divi Next Blurb module you can place the icon anywhere you prefer, and not only that, additionally you can add image and place it where you like best with the variety of placement possibilities you get from the Divi Next Blurb module.
Magnifying 3D Tilt Effect
The Divi Next 3D Tilt effect is an interesting addition to our family of design tools for the Divi Next Blurb module. Add a 3D hover effect using the tilt effect and have your design get the attention it needs.
Add Unique Buttons With

80+ hover effect
You read it right! Divi users get access to 80+ hover effects within the Divi Next Blurb module. Pick the best-suited hover effects for your design.
Three Title Text With

Background
This is a very creative function in the Divi Next Blurb module which allows divi users to have the opportunity to design unique multiple headings helping their websites look ever so professional and leaving websites to look super sleek with proper presentation of branding.
Add Amazing Hover

Effects For Your Blurb Design
You can now add a unique hover effect from our collection of 80+ trendy hover effects for your Next Blurb design. Divi Next Blurb module offers so much that you will not feel the need for anything else. If you want more products like this one here, feel free and go through Divi Next's All Products.
Ultimate border style

and sizing
With various design options as mentioned before Divi Next did not fail to let go of the little design options that can make such a big difference to your designs. Yes, play around with the borders within our Divi Next Blurb module, you will find it suitable for some of your designs.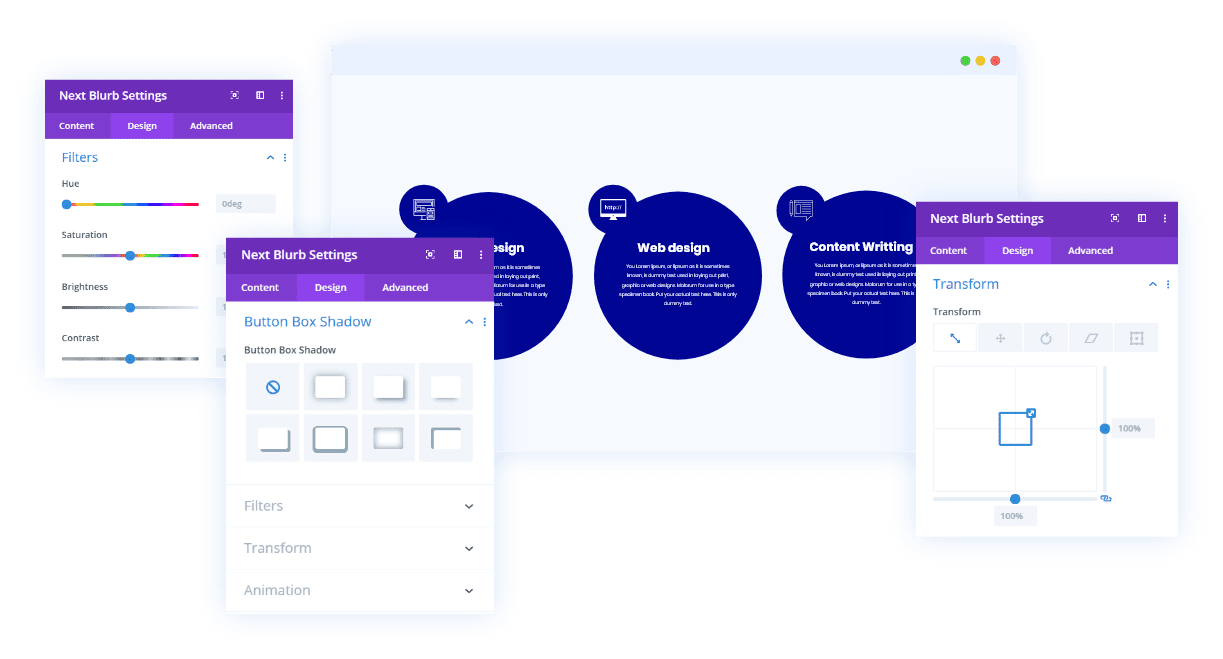 Divi Next Blurb module offers many design features

that help you create your dream design
Drown in the creative pool with Divi Next Blurb module. Explore to your heart's content and make beautiful designs using our creative playground-like module.
Divi Next: Mega Save Offer!
Get access to Divi Next's most creative plugins consisting of 60+ modules & 650+ layouts & so much more! Design with Divi! You can have it all here. So, hurry up and grab your lifetime access!