Divi Next All-Access Pass
Obtain all of Divi Next products with an exclusive purchase. Divi Next's All-Access Pass is here to make sure you have the best long term experience designing websites. With a single purchase, you are getting lifetime worth of all of Divi Next products. With an extensive number of design tools and a vast number of creative choices are presented in the All-Access Pass.
Lifetime Access To All The Divi Next
You are getting all of the design's problem-solving modules. From typography to unique hover effects to add to your texts and images, Divi Next proudly announces the All-Access Pass with lifetime access to all the products and future updates.
Creative Solution
Divi Next is proven to be the best solution to web design to date.
Visual Design
Divi Next comes with exceptional design tools, helping users visualize their 'Brand'.
Quality Performance
Divi Next products are known for their smooth responsiveness to all devices.
Enhance Your Website Building Experience
Get everything you have ever asked to design a full-fledged website. With All-Access Pass, you get an all-in-one package deal either YEARLY or if you'd like, for a LIFETIME! Divi Next has various creative modules, premade designs, and layouts for your ease-of-use. Feel free to pick the best ones that suit your website.
Enjoy, access, and download

all current and future products of DiviNext.com
Divi Next's All-Access Pass gives you an opportunity to experience the best web-building journey throughout a whole year with the latest updates and new products. Not only that, but All-Access Pass also offers you a LIFETIME worth of updates and latest products, what more could you want!
Next Image Effect Modules
A lot of More Amazing Module Coming Soon
One of the most important aspects of a website would be the texts that describe every function and topic that your company website relates to or is all about. The texts define your brand and your products. Now with DiviNext 'Text Plugin' you can get access to various text and format them to your liking and please your clients with the best 'Typography' that our plugins can deliver for you with just a click.
Divi Next's Text Animation Module consists of varieties of effects to put on your texts to catch the attention of your readers. Add attractive animation to your text. Enjoy the freedom to convey messages through different animation styles.
Next Image Effect Pro Modules
Divi Next's 'Image Effect Pro' allows you to add attractive hover effects and designs to the images you add on your website.
Minimal Image Hover Effect
The 'Divi Next Blurb' module is the most versatile plugin by Divi Next. It is significantly the most powerful plugin for design. The power of design and the blend of colors with detailed typography seems eye catching for all in today's era. The 'Divi Next Blurb' plugin, consisting of only one module is here to provide you with almost all in one design tool for your website.
Next Essential Effect Modules
The 'Essential Effect' modules are some significant designs that you use to strengthen your content on your website. Some examples below:
Divi Testimonial Carousel
Choose from 50+ footer layouts and fill the end of your website with all your useful information for your clients. A whole bundle of stunning footer layouts is now available at Divi Next.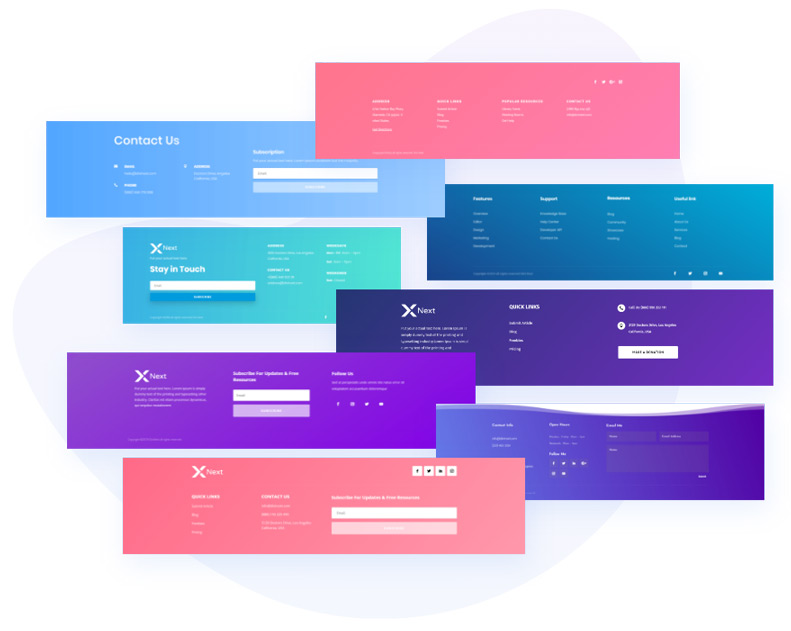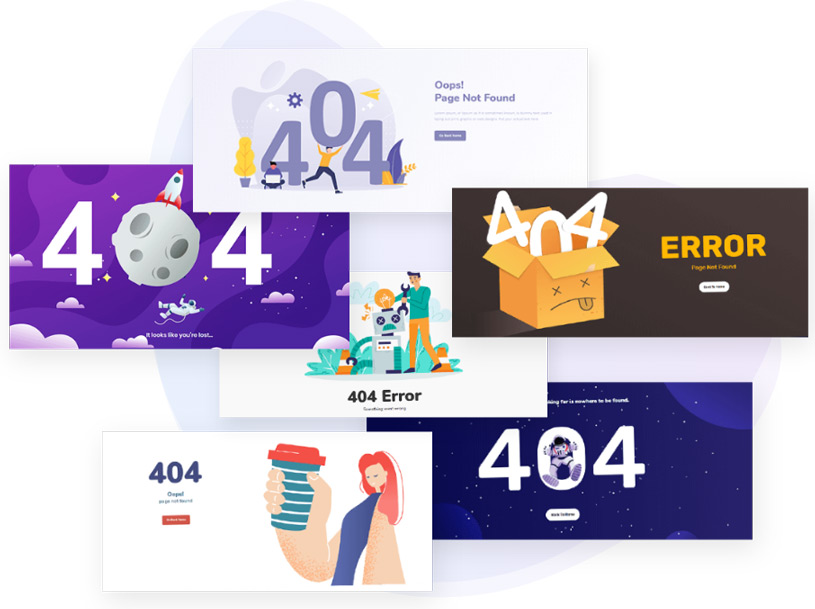 Choose from 50+ 404 layouts to avoid your site's missing page confusion. Pick your favorite 404 layouts from the premade bundle of sleek and unique 404 layouts by DiviNext.
Prepare eye-catching, user-friendly yet customizable header designs on your website that will allow your clients to pay attention to your 'Brand'. Feel free to explore our collection of 'Header Layouts'. Our creative team came up with unique premade designs for your ease-of use.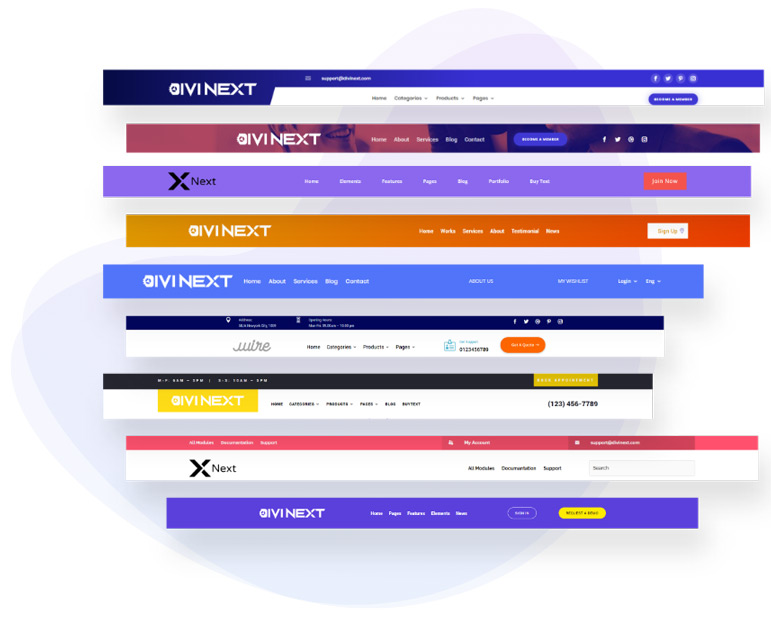 Single
Best Choice for individuals
Access to a Single Website
Access to all Products for a year
Single Licence key to all Products
Regular Updates on Products
Huge savings compared to individual
Product Purchases
Unlimited
Best Choice for Yearly Access
Unlimited Websites for a year
Access to all Products for a year
Single Licence key to all Products
Regular Updates on Products
Priority Customer Support
Huge savings compared to individual
Product Purchases
Lifetime
Billed once. Get lifetime access.
Unlimited Websites for Lifetime
Access to all Products for Lifetime
Single Licence key to all Products
Regular Updates on Products
Priority Customer Support
Huge savings compared to individual
Product Purchases
Divi Next: Mega Save Offer!
Get access to Divi Next's most creative plugins consisting of 40+ modules & 300+ layouts & so much more! Design with Divi! You can have it all here. So, hurry up and grab your lifetime access!
How many products are included in the Ultimate Access offer?
Ultimate Access includes the following products.
> Divi Next Texts
> Divi Next Blurb
> Image Effect pro
> Divi Button Module
> Dual Button Module
> 50+ Footer Layouts
> 50+ 404 Layouts
> 50+ Heading Layouts
> Heading Module
> More Coming Soon
With each module, there are hundreds of layouts for free to use
How can I download products as Ultimate Access users?
When you log in your Divi Next account with login credentials and go to the product page you will see a download button instead of purchase. You just need to click on download to get the products.
Does any plugin of DiviNext require a child theme?
No. The site just needs to have the latest Divi theme or builder to use the Divi Next plugin and layouts. There is o relation between child theme and Divi Next Plugins & Layouts. 
How can I get the plugin license key anytime?
Do I need Any license for Divi 404 layouts & footer layouts?
No license is required for 404 & footer layouts.
Why my purchase is pending after making the payment?
Sometimes it may take a few moments to process your payment. The delay would be mostly for 2checkout payment processing. So, there should be no worry but wait for a few moments.
Does Divi Next Footer layouts compatible with the latest Divi theme?
Yes. Divi Next Footer layouts are compatible with the latest Divi theme. You can the layouts through the latest Divi theme builder.
Where can I see my license key?
You can get the license key by login at your account. It's very easy and it could just take a few seconds with 3 simple steps.
Step 1:
Login to your account through the following link.
https://www.divinext.com/your-account/
Step 2:
In the purchase history page, there is a License Keys column at the right of the page. Click on the "View Licenses" link in that column.
Step 3:
On the left side of the page, there is an image of a Key. Click on the key and copy the full license.
How to activate the license key for the plugin?
It's super easy.
Activate the license key just in a few seconds.
Step 1: Copy the license key from your www.divinext.com account
Step 2: Go to the licensing page of the plugin and then paste the key in the "License Key" field.
Step 3: Click on "Save Changes" then "Activate License"
our plugin license key is active now.